Cardinal Architecture PC is a downtown Seattle architecture firm known for excellence in project vision, design, and delivery. We lead projects in higher education, historic preservation, public libraries, community centers, and single-family residences. We enjoy design, building and permitting challenges, and often support distillery, brewery and winery projects throughout the Pacific Northwest.
Our Team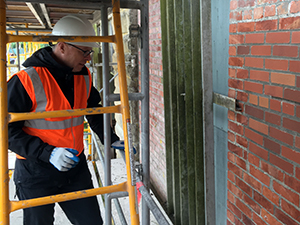 Principal Jim Cary
was born and raised in Hannibal, Missouri, and gained his architectural experience with education and employment on the East Coast, Midwest, Mountain States and the West Coast. Jim is versatile and adaptable, and he solves problems. He will be the champion for your project, and his efforts will help you define and realize your vision. Jim enjoys an active project leadership role, as well as the rewards from great team communication and collaboration.
Jim graduated with a Bachelor of Arts in History from Yale University and a Master of Architecture from the University of Oregon. He is a member of the American Institute of Architects, is a LEED Accredited Professional, and holds architecture licenses in Washington, Oregon, Montana, Idaho and California. Jim opened James Cary, Architect PC in 2007, and as we grew, changed our name to Cardinal Architecture PC in 2014.
Architect Jesse Belknap
was raised in Bedford, Massachusetts, and came to Seattle by way of Minnesota and New York City. Jesse's architectural experience includes competition awards for affordable, sustainable home designs in New Orleans and the Aleutian Islands, as well as volunteer work to design housing for Seattle's homeless community.
Jesse holds a BA in Studio Art from Carleton College, an MS in Elementary Education from Mercy College and a Master of Architecture from the University of Washington. He taught art to elementary students in the Bronx and has continued to share his experience with students, most recently teaching in the Interior Architecture program at Cornish College of the Arts. Jesse is a licensed architect in Washington State and fills a wide range of roles at Cardinal Architecture including project management, document production, IT and project photography.